United Astronomy Clubs of New Jersey, Inc. (UACNJ) was formed in 1988 as a loosely associated networking group for New Jersey area amateur astronomy clubs. UACNJ itself is not a club, but a consortium of a dozen and a half clubs united to support, coordinate, and communicate ideas among over 1400 individuals who make astronomy their hobby, in and around the state.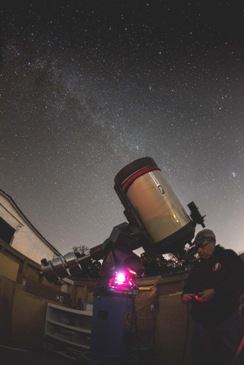 UACNJ helps promote and support amateur astronomy in the New Jersey area by representing its member clubs with its astronomical displays at major area events. UACNJ's presence has been seen regularly at the Rockland Astronomy Club's "Astronomy Forum" in the spring, the Amateur Astronomers Association of Princeton's "New Jersey StarQuest" June camp weekend, Bucks-Mont Astronomical Association's "Stella-Della-Valley" camp weekend in the fall, as well as UACNJ's own April Astronomy Day and September Symposium events, held at the UACNJ Observatory. UACNJ maintains a Speakers' Bureau for member clubs, awards Messier, Asteroid and Spectroscopic Certificates to qualifying observers, and maintains this web site which provides information on member clubs and links directly to all their web sites.
We hope that you will consider making a donation to help maintain UACNJ facilities and provide programs for the public. A receipt for income tax purposes is available upon request. Donations can be sent to UACNJ at P.O. Box 150, Hope, NJ 07844 or placed in our donation jugs when you visit.
UACNJ Observatory at Jenny Jump
The UACNJ Observatory is located at Latitude 40 54' 26.8" North, Longitude 74 55' 31.8" West, and 1100 feet above sea level in Jenny Jump State Forest, near Hope, New Jersey, in Warren County. The site is one of the few dark sky locations left in the state.
Click Here for Directions.
Other activities available in
Jenny Jump State Forest
include camping and hiking.
Skylands Visitor
has information about nearby attractions.
Can't find the information you're looking for? Contact us at:


Car Donation